Negin Yamini practices criminal defense in the area of domestic violence in Orange, Ventura, and Los Angeles counties. Negin routinely defends the accused against all domestic violence charges including corporal injury on a spouse, criminal threats, and simple and aggravated assault. Negin's meticulous and aggressive lawyering has helped her accomplish a myriad of reduced sentences, dismissals, and favorable outcomes on behalf of her clients.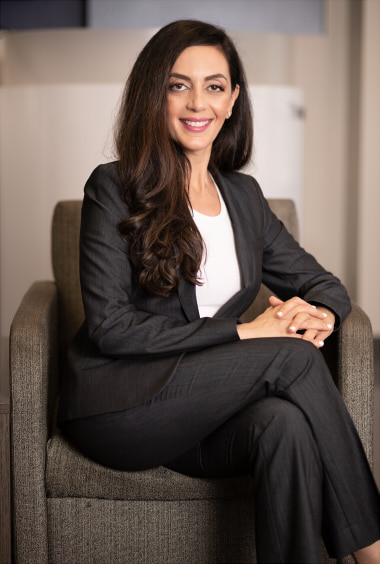 Negin is a Summa Cum Laude graduate of the University of California, Los Angeles (UCLA), where she was nominated for Phi Beta Kappa and became an American Dream Fellow because of her academic accomplishments and demonstrated commitment to public service. Negin received her Juris Doctrite from the University of California, Hastings College of Law. At Hastings, Negin became a Tony Patino Fellow and was recognized by the Refugee and Human Rights Clinic for her successful fight on behalf of a young Mongolian woman who sought political asylum in the United States.
Today, as a criminal defense attorney, Negin relentlessly and zealously protects the accused against any and all domestic violence charges and in all stages of a domestic violence prosecution. In a social climate where an accusation of sexual assault or domestic violence is often left unscrutinized and taken at face value, Negin tirelessly demands justice and integrity from police officers and prosecutors. She will take any and all necessary measures to ensure that sloppy investigation of the facts and hasty conclusions by the police and prosecution do not undermine her client's chances at a fair trial and a favorable outcome.
Negin Yamini is a member of the American Inns of Court, an organization dedicated to promoting and protecting the rights of the accused. Negin is also a member of the National Association of Criminal Defense Lawyers, an organization that actively pursues justice and due process on behalf of the accused.
If you are accused of domestic violence…
Call Domestic Violence Attorney at 424-276-6060. We will gladly provide you with a free legal consultation. By reviewing the specific circumstances of your situation, Domestic Violence Attorney can give you advise on how to proceed with your domestic violence case.